Pouilly vineyards
One vineyard,
two AOCs
Pouilly vineyards produce two dry white wines labeled Appellation d'Origine Contrôlée since 1937:
Pouilly-sur-Loire made from chasselas grapes covering 30 hectars (74 acres).
World famous Pouilly Fumé made from sauvignon blanc covering 1400 hectars (3460 acres).

Pouilly vineyards extend through seven communities in the French département of the Nièvre, part of the Loire wine region.
The vineyards are held by about 100 wineries, most of them family owned, and led by winemakers with a passion for their work.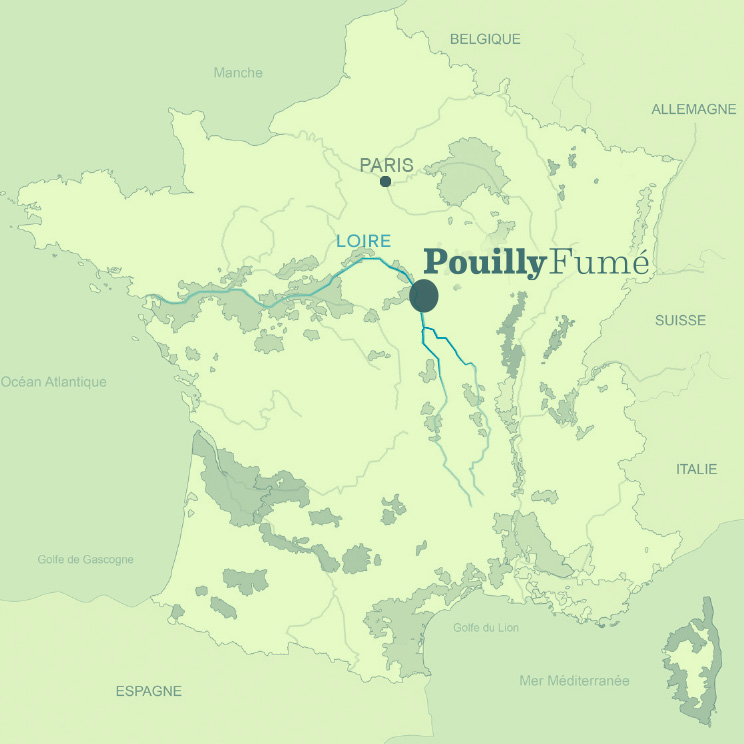 ---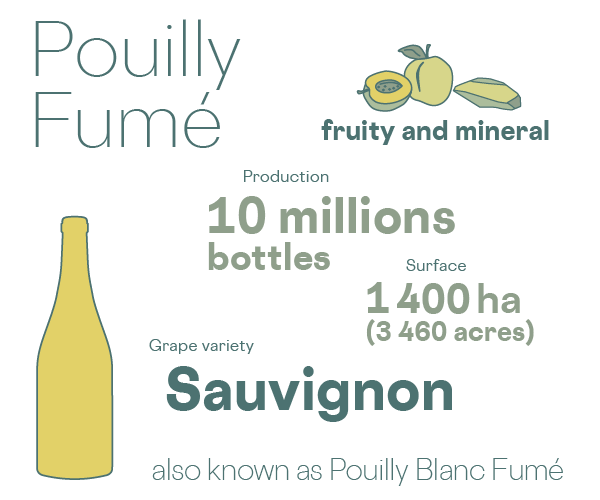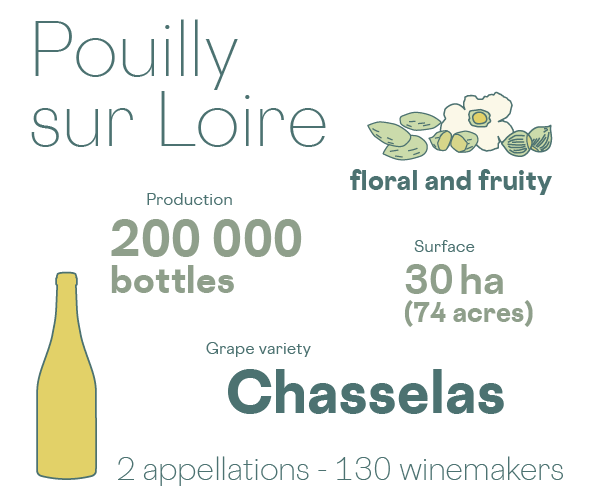 ---
Why Fumé?
Two explanations:
grape variety and soil
There are many explanations for the Fumé (smokey) attribute of our wine. Two are most widely accepted: the first explanation has to do with the grape variety, the second with the soils.

• Mature grapes of

Blanc Fumé

(synonym of Sauvignon blanc) are covered with a light grey bloom which gives the illusion of a veil of

smoke

.

•

Fumé

also refers to the unmistakeable

"smokiness"

developed by the friction of flint rocks which make up the exceptional soil of Pouilly.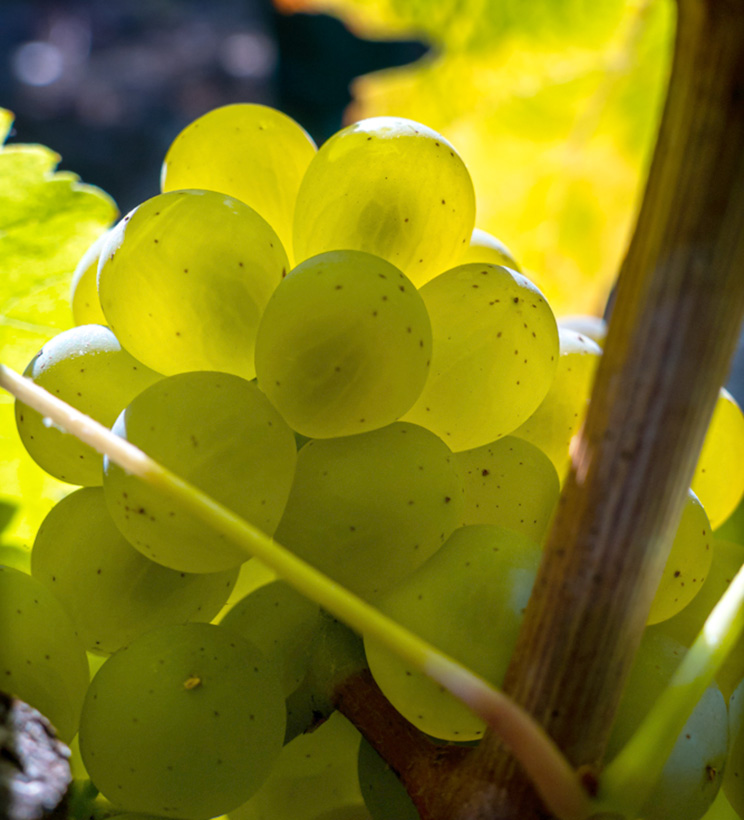 ---
Pouilly sur Loire
What a name for a wine!
The village around which it is produced, Pouilly-sur-Loire, gave its name to this dry wine made from chasselas grapes.
In living winemaker memory, chasselas has always been vinified in Pouilly. In its glory days in the nineteenth century, it was a very popular table grape. Benefitting from its connection to the railroad system since 1861, Pouilly provided Paris' main farmers market "Les Halles de Paris" with countless baskets of chasselas.
Even though chasselas is rare today (30 hectars, 74 acres), it still produces beautiful and tasty
golden grapes.
Chasselas yields a straightforward and refreshing wine with a floral and fruity aroma. It is ideal for casual occasions and is perfect for an upbeat lunch with friends!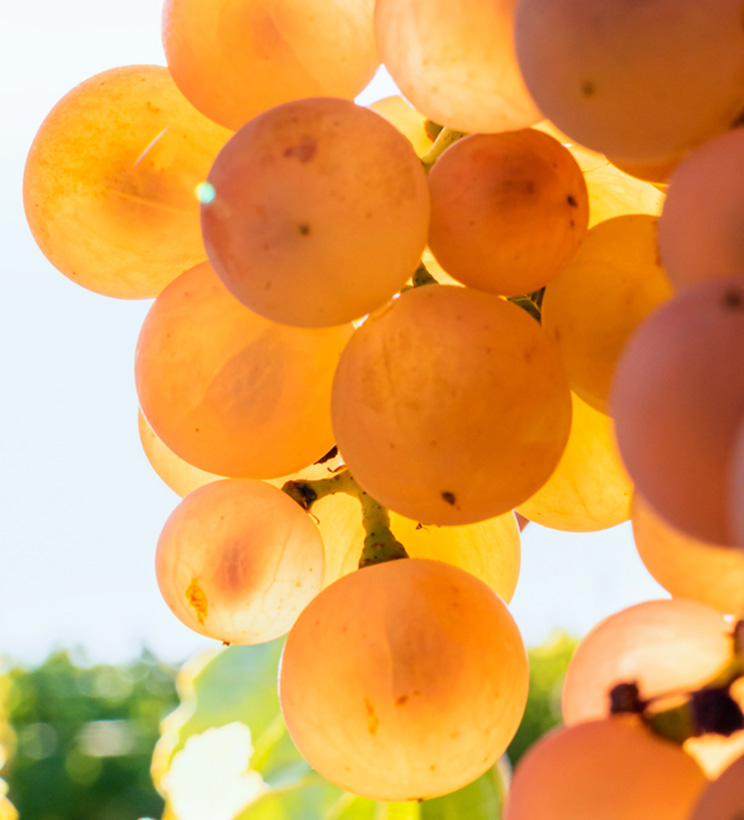 ---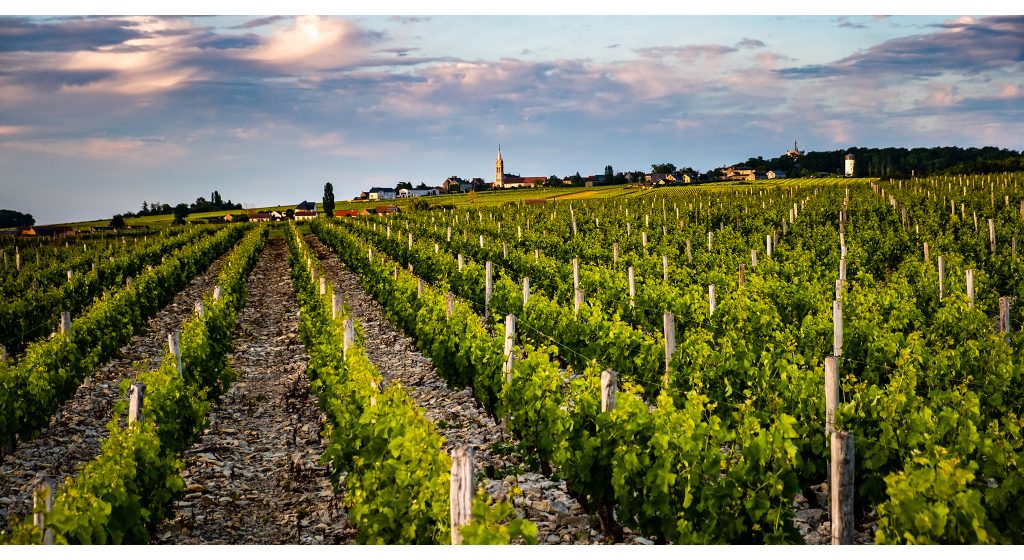 ---
A sustainable and committed vineyard
Pouilly winemakers, ever mindful of their environment, are committed to recognized healthy environmental practice labels such as Terra Vitis, Organic Farming, High Environmental Value. Thanks to their different approches, these labels aim at preserving the environment: soil, vine and man. Our winemakers are committed to transmitting sustainable, family-centered viticulture.
Pouilly winemakers draft the conditions of their own AOC. They establish the requirements guaranteeing the quality of their wines and the identity of their appellation.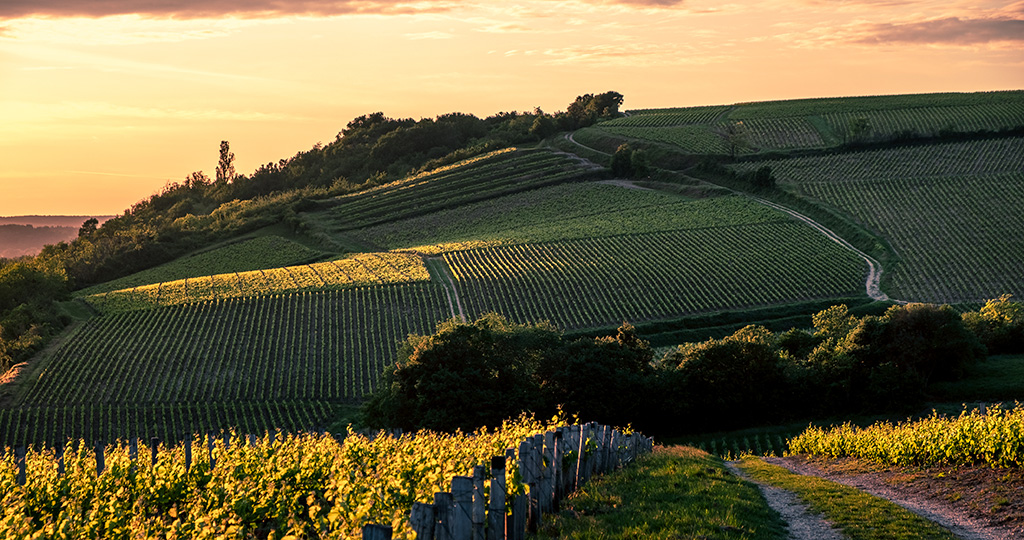 Viticulture
The excellence of our Pouilly wines begins with a superior harvest quality. This is why every winemaker and his team work the vineyards with great care and professionalism all year round.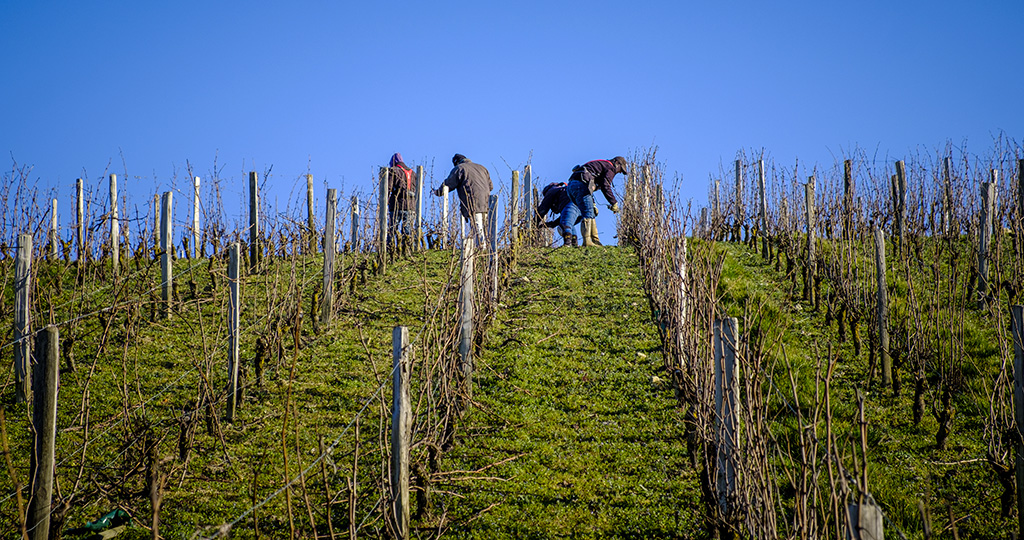 Vinification
After the harvest and pressing, vinification takes place for the greater part in steel vats. The first step, settling of the must, allows the grape juice to clarify by sedimentation.
Alcoholic fermentation starts as yeast turns sugar into alcohol.
After fermentation (two to four weeks on average), the lees gradually descend to the bottom of the vat. The maturation process starts and the duration may vary depending on the winemaker.
The clarified juice, now wine, is collected (racking), and is ready to be filtered and bottled.
---
The harvest
A new vintage is born
---
Meet Pouilly wines
Pouilly winemakers are just as proud to work their vineyard and make their wine as they are to market their own cuvées.
The family owned wineries are happy to welcome visitors in their tasting cellars and introduce them to their wines.
In the heart of the village of Pouilly-sur-Loire, La Tour du Pouilly Fumé informs and educates visitors while offering a wide range of Pouilly wines in its shop.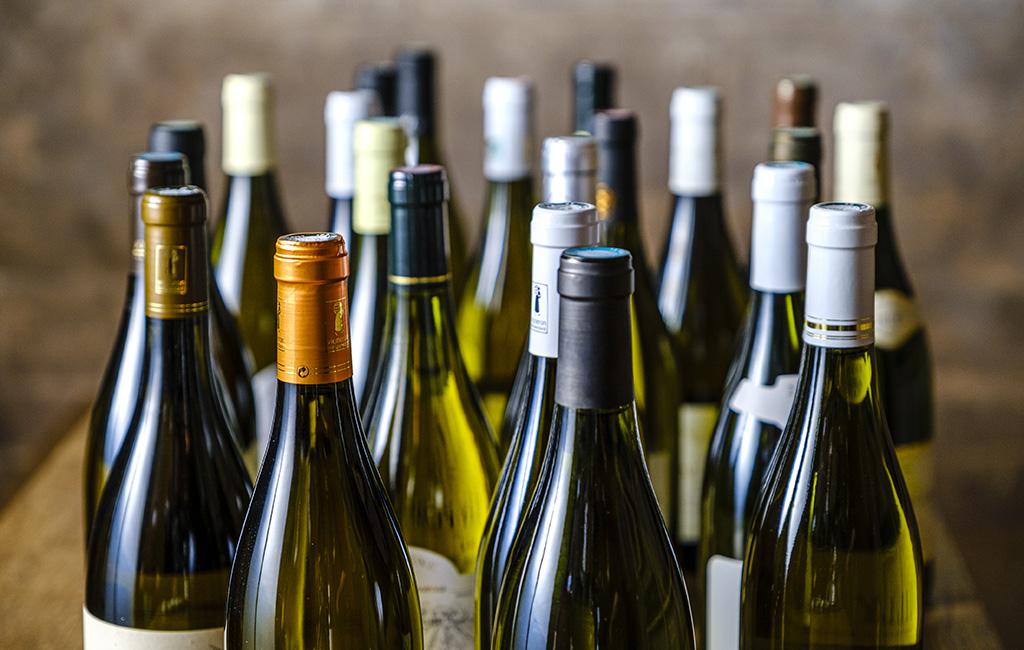 But Pouilly Fumé is also renowned worldwide. Indeed, over half of the production is exported to more than 130 countries.
It finds its place in the finest restaurants around the world. The biggest importers of Pouilly Fumé are the United Kingdom, Belgium and the United States.
---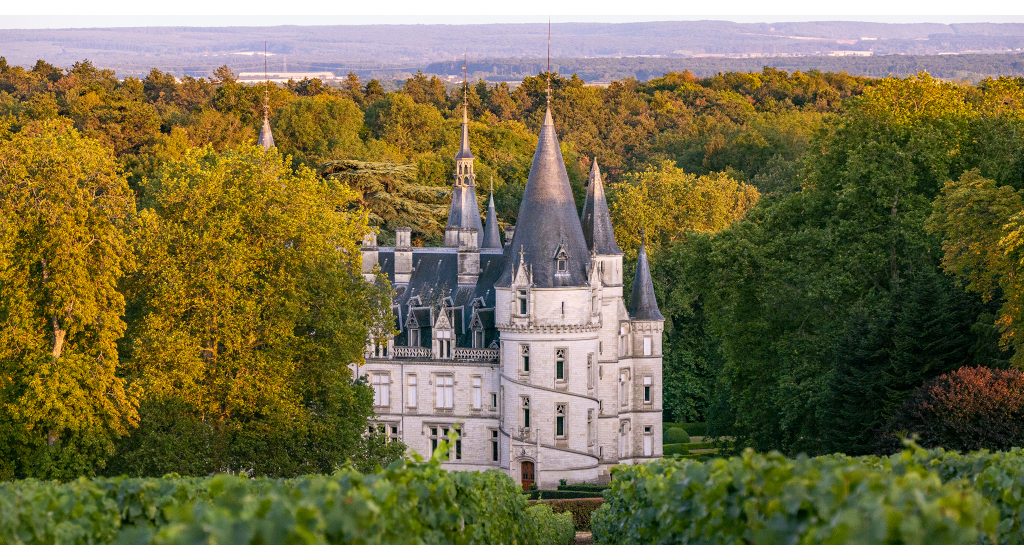 ---
History
Key dates
5th century
Our vineyard is created during the gallo-roman era.
Middle Ages
Pouilly vineyards expand thanks to monastic communities.
10th century
Feudalism: the first winemaking practices are introduced.
11th century
Pouilly vineyards become the property of Benedictine monks of La Charité-sur-Loire.
15th century
Pouilly wines are already well known and greatly appreciated by kings and noblemen:
Louis XI has Pouilly wine specially sent to his castle of Plessis-lèz-Tours.
16th century
Winemaking practices are codified
(Guy Coquille's writings, on Laws & Customs in the Nièvre).
17th – 18th centuries
The Loire river commercial route favorizes Pouilly wine trading.
1860-1890
Chasselas is sold as a table grape.
1888
Mildew outbreak.
1890
Phylloxera devastates French vineyards.
Beginning of the twentieth century
Chasselas is vinified once again.
1937
Appellation d'Origine Contrôlée (AOC) label is awarded to Pouilly-sur-Loire and Pouilly Fumé wines.
---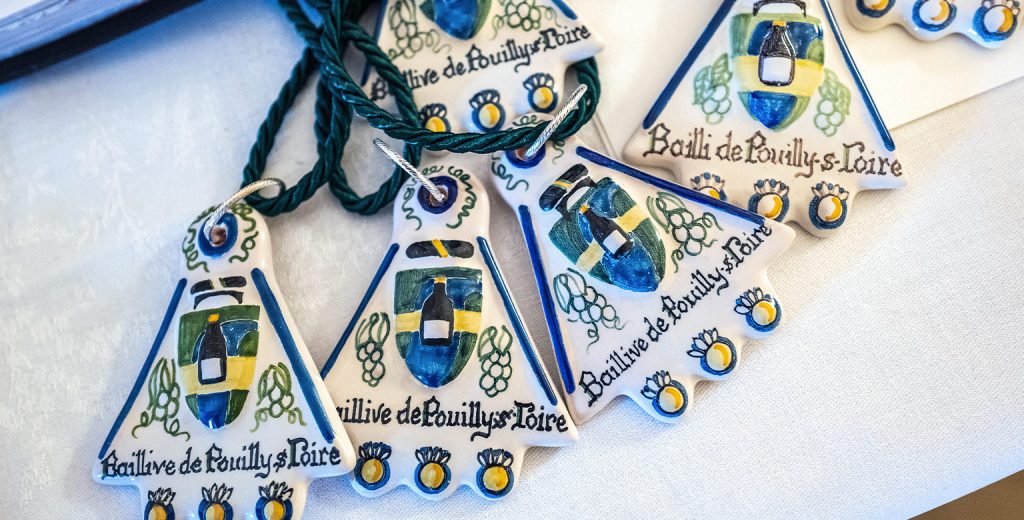 ---
Traditions:
As early as the Middle Ages, winemakers chose a patron saint: Saint-Vincent. This choice bears a symbolic connotation since « vin-cent » can be extrapolated to « vin-sang » (wine-blood) and refer to the sacrifice during which wine is turned into Christ's blood.
Originally Saint-Vincent brotherhoods were mutual assistance societies. Strong bonds of solidarity unite its members to this day.
Every January 22nd, Pouilly winemakers celebrate Saint-Vincent to be granted protection of their families, vineyards and wines.
Each of the three main villages in the Appellation Contrôlée area (Pouilly-Sur-Loire, Saint Andelain and Tracy-sur-Loire) have their own Saint-Vincent brotherhood.
---
Pouilly Fumé
One vineyard, one terroir and winemakers