Must-see!
La Tour du Pouilly Fumé
Visit the oenotouristic site of La tour du Pouilly Fumé in the heart of Pouilly-sur-Loire. Discover the vineyard and winemaking, explore Pouilly Fumé and Pouilly-sur-Loire appellations with an innovative museum space and a sense-awakening visit!
---
Your visit
Listen
Behind the wine are the men and women who create it. Join them around the table as they tell you the story of Pouilly's thousand year-old vineyards.
Feel   
Discover the hills and an ever changing landscape as the seasons go by. Join winemakers in their seasonal work from Saint Vincent holiday to harvest day. Feel the warmth of summer, the freshness of winter mists, smell the wet earth after the storm and watch the vines grow…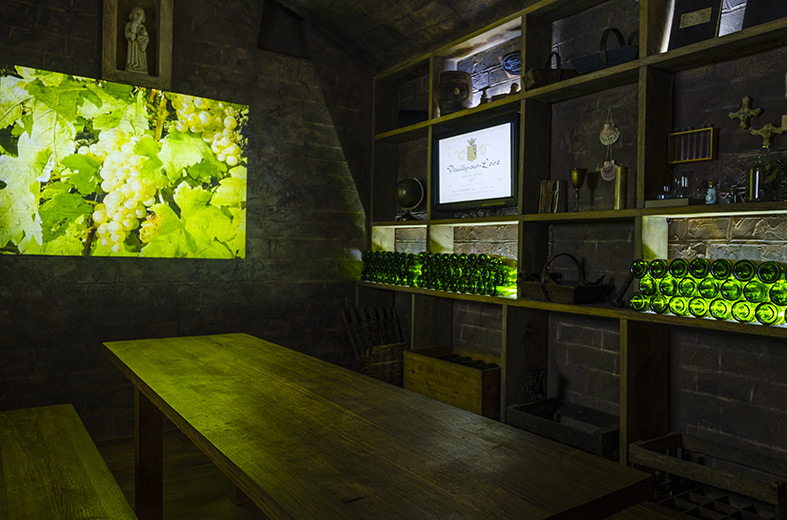 Share
Discover the mystery of vinification. From the reception of the grapes at the winery to bottling. Winemakers, passionate for their craft, will share some of their secrets with you…
Smell    
In a beautiful vaulted cellar, discover the ten aromatic families of Pouilly white wines. Natural products recreate the aromas in different retorts. A magical moment!
The Aroma Cellar© is a creation of the Bureau Interprofessionnel des Vins de Bourgogne.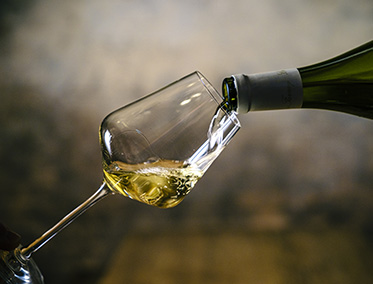 Taste
After your visit, enjoy a guided tasting of four wines and put your new knowledge into practice! A selection of wines allows you to tell the difference between Pouilly-sur-Loire and Pouilly Fumé, the soils' influence on aromatic and gustatory expressions.
You can find the wines you tasted at our shop!
 
---
Extend your experience
La Tour du Pouilly Fumé offers a wide range of diverse experiences beyond its permanent exhibit. Feel free to walk into this lively gathering place whether you are visiting Pouilly or live in the area! 
Our team is passionate about Pouilly Fumé wines and has so much to tell you. They know the best local places to go to as well as the region's must-see sites…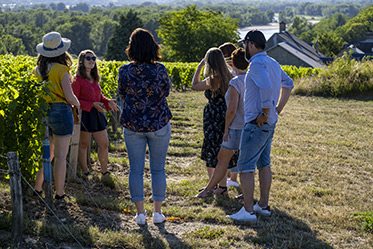 ---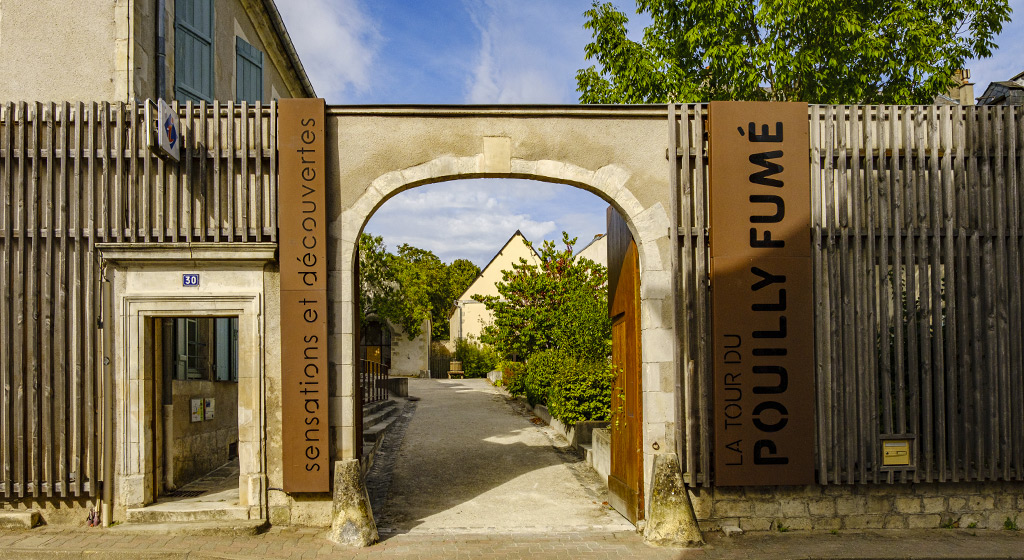 ---
Everything you need to know before visiting us
When are we open?
February, March, November and December:
(2 PM, 6 PM) Closed on Mondays.
April, May, June, September and October:
(10 AM, 1 PM) – (2:30 PM, 6:30 PM)
Closed on Mondays.
July and August: (10 AM, 7 PM).
The shop and the Office of Tourism's reception desk are open at the same time as the museum.
---
How long is the visit?
How much does it cost?
The exhibit space and guided tasting at La Tour du Pouilly Fumé are fully comprehensive experiences.
Here are a few tips to prepare your visit.


If you have limited time
Visit the Pouilly Fumé Aroma Cellar© and chose the guided tasting of four wines. It's a great way to discover the grape varieties, soil types and Pouilly wines before you go out and meet winemakers or select a couple bottles from our shop.
Duration: Approximately 30 minutes.
Aroma Cellar ticket: 5 euros per person.

If you can spend over an hour
Choose La Tour du Pouilly Fumé's complete visit. It's the best way to engage with winemakers and discover the secrets, subtlety and complexity of Pouilly Fumé. On Sundays in July and August and on holidays, winemakers welcome you and help you discover their wines!
Duration: Approximately 1h15.
Full price: 7 euros per person.
Reduced rate: 6 euros per person (student, unemployed, disabled, groups of 10 people minimum).
Children: 5 euros per child from 12 to 17 years old.
Free for children below 12.
If you have a few hours
Complement your visit by gaining some perspective: go up the Saint-Andelain Belvédère! A unique panorama of the vineyards, the Loire and its islands lays before you from the top of what used to be Saint-Andelain's water tower.
Duration : 2h to 2h30.
Belvédère combined ticket: 8 euros.
If you are a wine lover,
spend a few days
Treat yourself to the Wine Pass and discover the local vineyards of Pouilly, Sancerre, and Côteaux du Giennois.
This pass includes visits of La Tour du Pouilly Fumé, Maison des Sancerre, Saint-Andelain Belvédère as well as discounts for It's Wine Time: our summer balade-dégustation (tasting and easy walking excursion). You also get a discount on electric bicycle rentals!
Tickets are available from mid-June to mid-September.
Duration: you decide!
Price: 10 euros.
Free for children below 12.
---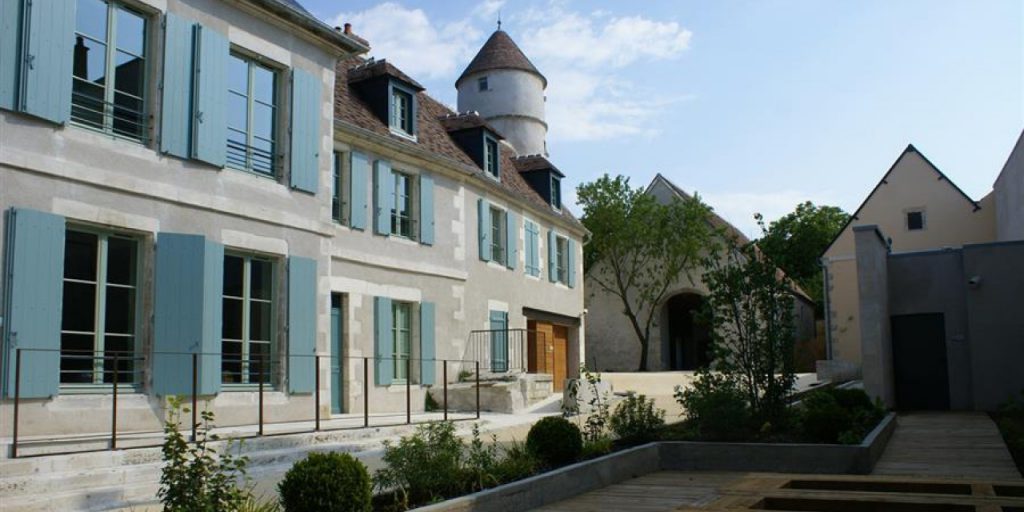 ---
A place open to all
Whether you are an amateur, a beginner or a connoisseur, whether you visit us as a couple or as a family, there's only one condition: come with a curious mind! 


Younger public and families
La Tour du Pouilly Fumé is family friendly! Its educational garden, unique museum space, Aroma Cellar© and syrup tasting at the end of the visit make for a fun sensory discovery of Pouilly vineyards for kids! Children playfully awaken their senses and discover the cultural dimension of wine through the vineyard's history and the winemakers' savoir-faire.


Transiting visitors
Whether you are a bicycle or a canoeing enthusiast, whether you love hiking or travelling by train, La Tour du Pouilly Fumé is easily within your reach: less than 5 kilometers from the Loire à vélo cycling path and less than a kilometer away from the river itself! We are located 500 meters away from the GR3 hiking trail and the Pouilly-sur-Loire train station. You can count on us for a warm welcome! 
 
Foreign visitors
Since La Tour du Pouilly Fumé is the showcase of world famous Pouilly Fumé wine, we are especially pleased to welcome our foreign guests: the exhibit is translated into English and German and inperson welcoming of foreign visitors is in English. 
 
Disabled visitors
Our facilities are entirely accessible to our disabled guests: nearby parking lot, access ramp, stair-free visit, accessible reception hall and restrooms; all rooms are equipped with the necessary equipment and services.
---
Getting here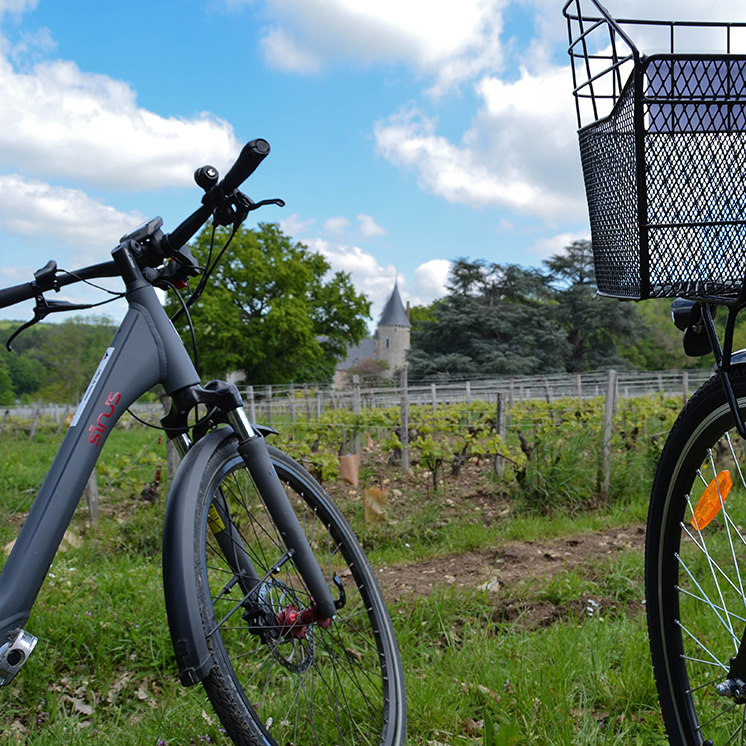 By car
A 77 highway (Paris/Nevers), exits 25 and 26
Parking: a twenty space parking lot is located near La Tour du Pouilly Fumé, on rue Waldeck-Rousseau.
Additional parking is located behind La Tour du Pouilly Fumé on rue des Écoles. This parking area is larger and shaded.


By train
Cosne-Cours-sur-Loire train station (1h50 from Paris-Bercy station) and la Charité-sur-Loire train station (2 hours from Clermont-Ferrand) ; stop at Tracy-sur-Loire and/or Pouilly-sur-Loire.
 
By bike
Via Eurovélo 6 (the road follows the Loire from Nantes and goes all the way to Belgrade). You can easily reach La Tour du Pouilly Fumé: the village is only 1.5 kilometers from the Loire à vélo bike path (located on the left bank of the Loire river in the Cher département).
From the location Les Vallées, take the D59 towards Pouilly. Go through the Val de Loire Natural Reserve then cross the bridge on the Loire. Follow straight onto avenue Jean Jaurès and turn left onto rue René Couard. The street continues straight on rue Waldeck-Rousseau. La Tour du Pouilly Fumé and the Office de Tourism are located at number 30.
By boat
Stopovers on the Loire canal. 
  
Tour bus
Buses may stop on rue Waldeck-Rousseau in front of La Tour du Pouilly Fumé for passengers to get off and enter our courtyard. Bus parking is available on rue de Paris or rue René Couard.
---
Touristic sites
---
Our services
Office of Tourism
La Tour du Pouilly Fumé provides you with the services of the Office of Tourism. Our qualified personnel offers comprehensive documentation, ticketing and excursion booking. Our informational area has electric outlets so you can recharge your phone or bicycle batteries while enjoying free unlimited Wi-Fi access. In the interest of improving the quality of our hospitality and services, the Office of Tourism and La Tour du Pouilly Fumé are part of the Qualité Tourisme label.
A specialized shop
The shop at La Tour du Pouilly Fumé offers a large selection of wines from over fifty wineries as well as numerous accessories, glassware, local produce, textiles, games and a library dedicated to wine and gastronomy.
Rent our space!
A unique space is available for seminars and receptions (maximum capacity: 50 people).